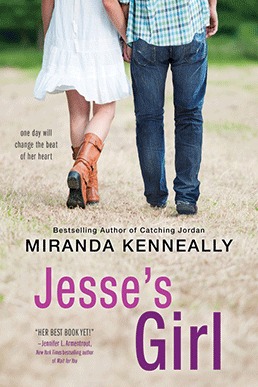 Title: Jesse's Girl
Author: Miranda Kenneally
Publisher: Sourcebooks Fire
Release Date: July 7th, 2015
Interest: Author / Contemp / Series
Source: eARC provided by the publisher
Summary (From Goodreads):
Everyone at Hundred Oaks High knows that career mentoring day is a joke. So when Maya Henry said she wanted to be a rock star, she never imagined she'd get to shadow *the* Jesse Scott, Nashville's teen idol.
But spending the day with Jesse is far from a dream come true. He's as gorgeous as his music, but seeing all that he's accomplished is just a reminder of everything Maya's lost: her trust, her boyfriend, their band, and any chance to play the music she craves. Not to mention that Jesse's pushy and opinionated. He made it on his own, and he thinks Maya's playing back up to other people's dreams. Does she have what it takes to follow her heart—and go solo?
Miranda Kenneally, thank you for writing such good books! Okay, I had to get that out of my system so I could start writing this review.
But seriously, Miranda Kenneally writes such good books. She really does. And they get better every time. I really enjoy that the majority of the Hundred Oaks series features girls playing sports since we need more books like that, but it was refreshing to read about a Hundred Oaks character who's a musician instead.
Before I get into why I like the musical side of Jesse's Girl, I want to point out that while this is part of a series and though it references Jordan from the first book Catching Jordan, this could be read on its own. I like to point this out since I know many librarians and teachers read my reviews and students often ask me about the order of these books. And if one student has been waiting patiently for Catching Jordan to come back so she can start the series, I know I can hand this one or even Breathe, Annie, Breathe to her while she waits.
To the musical side of Jesse's Girl. Many parts of it reminded me of Where She Went by Gayle Forman. Jesse is a passionate musician much like Adam, but he's also troubled and doubting himself like Adam does. Maybe it was the country music aspect, but I also found myself thinking of Open Road Summer by Emery Lord while reading Jesse's Girl. Both books are sweet and honest and down to earth.
When it comes to music and Maya, I really enjoyed how independent and adventurous she is. Although she's scared to attempt any solos, she wants to put herself out there and branch out. She wants to try different sounds and genres of music. I'm not much of a musician, but I know it's not always easy to leave your comfort zone no matter the situation. I can't imagine it's any easier for an artist, especially a musician, who's being judged right there in the moment while performing. This made Maya an admirable character.
Maya's a great protagonist and she has a fun cast of secondary characters who support her. Catching Jordan has maintained the spot as Favorite Hundred Oaks Book since I read it, so I'm not surprised that I thoroughly enjoyed reading more about Jordan and her life this far in the future. I'm also a fan of Maya having supportive parents. Those are sometimes hard to find in YA even though many teens have great relationships with their parents and siblings.
If you still haven't introduced yourself to Miranda Kenneally's books, I hope you change that soon. They're great books to read during the summer (or any time of the year). And my students absolutely adore them, so if you're working with teens make sure you get your hands on this one.